Home » Design Ideas » Pantry Doors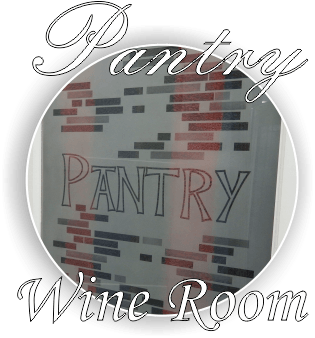 Pantry Doors
Pantry doors can be frosted glass doors for clear etched glass doors. We can apply a theme with or without the " Pantry " label and with any of our designs you see. We can also custom design pantry doors for you. We build them as single prehung doors or as double doors. Usually the double doors are built with a Ball Catch so you can install decorative pull handles on the exterior of the double doors. This is different than the traditional home office door which typically uses an Astrical to keep the inactive door closed. You will see an example below of a ball catch door and realize you probably have seen that before.
Etched glass can be used on any of the interior doors in your home or office. Why have plain when you can have a decorative interior door?
Pantry doors
Bathroom interior doors
Wine room door
Office doors
Etched Glass Pantry Doors –
Wine Rooms – Interior Doors
Pantry doors can be an additional focal point in your kitchen. Have something unique that matches your kitchen or matches your style and theme.
Our pantry doors come primed ready for a final coat of paint. You can paint them any color that coordinates in your home.
Most are now done on frosted glass and etched on the outside. This provides style and keeps the clutter in the pantry out of sight.
Check out our etched designs below for some ideas. Any of our designs could be adapted to your new pantry door. We will make and etched glass pantry door in any standard size.
Contact us
Please use our contact form so we can call you back when we are not with customers or between projects. Sometimes its just minutes and sometimes it can be a few hours. We are in the etching booth most of the time and that makes it impossible to answer the phone. But we will call you back!
Click the NEXT page link at the bottom to see next pages
My husband installed the new pantry door perfectly. It looks great and we will enjoy it for years. Thanks so much.
My wife loves your work. Thank you for working with us on designing a pantry door to go with our new kitchen remodel.
Glad our cabinet company referred you to us. We could not find anything unique locally. It looks great so we are very happy.
Our pantry door looks great. We have gotten many compliments on our new door. Thank You.
Much better than the big box stores generic frosted doors. This looks more unique. Thanks alot for working with us.