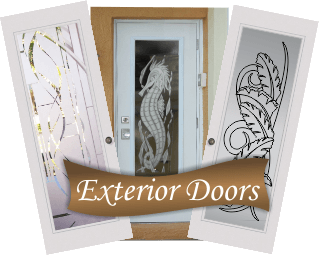 Exterior Doors
Durable, low maintenance fiberglass doors with full fiberglass rot proof frames.Ready to paint in smooth or woodgrain finish.
Exterior Doors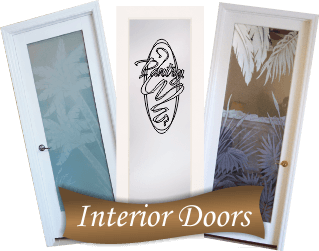 INTERIOR DOORS
Interior doors don't have to be plain! Complete your decor with a design that compliments your home and is also functional.
Interior Doors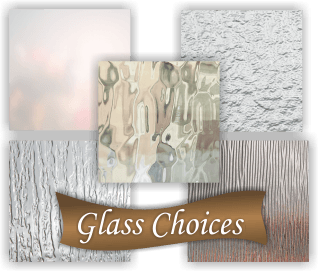 GLASS CHOICES
Choices vary between interior and exterior but there are always choices that will work for different functionalities….
Glass Choices
Etched Glass Doors with Your Theme
Design elements make your theme. Do you live on the water? By a lake? Love contemporary designs? Have a passion for floral designs? This is where we start!
Fiberglass Doors, Interior Doors, and Glass Door Inserts
Etched glass doors will make your interior glass doors or exterior glass doors decorative and unique. Use our designs on interior or exterior glass doors or on glass door inserts for fiberglass doors. We create new designs for many of our Florida clients to give them the unique style they are looking for. We provide to installers and homeowners alike. YES! We do provide doors as well as the etched glass service but we do not provide installation service. Please refer to our Resources/Door Size Chart for the size door you need. These sizes pertain to exterior doors. Interior doors are slightly less in width and height.
Custom Glass Etching for Doors
We provide custom etched glass for remodeling projects or new construction in Florida mostly for glass doors. Some shower doors and room dividers incorporate our etched glass designs also.
If you need interior doors, the same designs can be adapted to clear or frosted glass interior doors. The most popular applications are pantry doors, wine room doors, office doors, or media room doors. For your convenience we provide interior doors prehung or just the door slab.
Hurricane Impact Glass Doors
The etched glass designs seen can usually be done on clear glass door inserts or textured glass door inserts for fiberglass doors. Need hurricane impact glass for your fiberglass exterior doors? We can provide the doors, the impact glass inserts all together for you or provide just the impact glass inserts with the design applied.
Glass Etching Artist
Our glass etching artist will help you create a new design or show you options from our past etched glass design collections. We can provide you with the complete prehung door unit or just the glass door inserts with decorative etched glass designs. If it is an interior door you need, then the choice is a door slab only or the prehung door unit. The interior doors are fabricated with the glass installed. The doors are primed ready for a final coat of paint.
Some beautiful Etched Glass Doors
Etched Glass Doors Florida
Quick Links
Call Us! (813) 922-3700