Home » Design Ideas » Geometric Etched Glass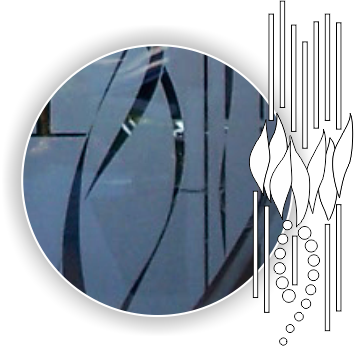 Geometric Etched Glass
Frosted Etched glass designs
Geometric etched glass doors with modern geometric designs typically are more contemporary. Etched glass is so versatile we can design your etched glass door with a pattern that coordinates and compliments the design lines in your home. We have used modern etched glass designs in the same areas as others:
Frosted Glass Door Inserts
Interior Glass Doors
Pantry Doors
Shower Door Enclosures
Geometric Designs are Modern
Geometric frosted etched glass doors designs tend to be more modern than other etched glass styles. You can incorporate other items into a geometric design to add other design elements.
Some people add elements such as herons or aquatic items to bring a touch of a different theme to the door design. Sometimes the tile in the area provides a design theme for our etched glass doors. This is especially true in bathrooms and kitchens. Etched glass doors are so versatile that we work around your design details. So much easier!
Ideas are always welcome. Think about the designs you see in tile, statues, or anything else you may have seen. We love to make new designs.
Etched Glass Projects
Our glass etching studio welcomes you to present your ideas for your next etched glass project. We do specialize in glass etching on glass doors but many projects have also been done on other areas such as transoms (before installation) small wall dividers, shower doors, windows. Check out our main design page if you are looking for different etched glass design ideas?
If you are looking for a frosted glass pantry door, we have the ability to add our designs to most any of the designs you see on any of these pages. Give us a call at (813) 922-3700