Home » Design Ideas » Traditional Etched Glass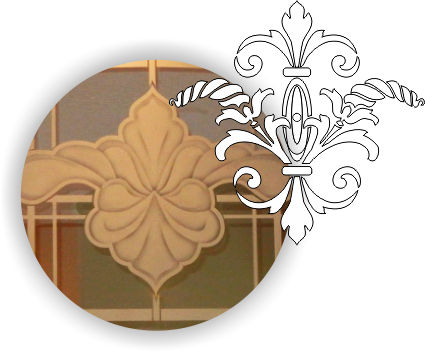 Traditional Etched Glass Design Ideas
These designs will blend with classic and traditional designs in your home.
Traditional designs in Etched Glass
Frosted glass doors with traditional designs etched on clear or opaque glass. Interior and exterior doors use traditional designs to decorate the glass doors in the home or office. The ideas for traditional designs come from all around us. You can see traditional ideas from scrollwork to iron work everyday around you.
If there is something we can use to coordinate the design to your home, we would want to start there!
If you don't have those ideas we can help you and we can start with some line art that we can fit to your project. Check out our main design page if you are looking for different etched glass design ideas?
Contact US!
Please use our contact form so we can call you back when we are not with customers or between projects. Sometimes its just minutes and sometimes it can be a few hours. We are in the etching booth most of the time and that makes it impossible to answer the phone. But we will call you back!