Hurricane Impact Glass Doors
Hurricane Impact glass door inserts are specifically designed for the coastal Florida markets. Any coastal area can benefit from the added protection of impact rated glass door inserts in the exterior fiberglass doors.
Hurricane impact glass has become the answer to building codes that have changed around 2015. The boundaries for wind borne debris zones have changed to include Tampa and half of Hillsborough county. Regulators have moved "coastal" zones inward to mid Hillsborough county. Now some areas west of I-275 is included into the high wind areas. High wind areas are rated at 145 mph or more. This site will present your windspeed. This can only be verified by entering your address into the "address" box and click the "get windspeed" button. Instantly you will know if your address is considered a high wind zone. The requirements for new construction and door replacement does vary.
For new construction in 145 mph or more windzone, you need to have high wind protection. This is solved with approved rated shutters or Hurricane Impact glass in your doors and windows. Please refer to your building department requirements. For remodelers, if you are replacing less than 1/3 of your exterior glass openings, then you do not need to comply with hurricane rated glass. This too should be confirmed with the building department in case requirements change.
The benefits of Impact Rated Glass Doors
Hurricane impact glass door inserts are not penetrable.
The following video shows the missile test that shows that windborne debris will not penetrate the glass door. This is the main concept behind impact glass. The additional benefits are that the glass protects the home from forced entry. IE: burgulars! If the laminated glass prevents the missile from penetration, then the burglar will not enter either. The door should also be built as an outswing door and the frame should be built from Plastpro composite fiberglass door frame material. This is the best protection you can buy.
Impact Glass Door with Etched Glass
Hurricane impact glass has obvious differences once you know what to look for. First tap the glass with your knuckles, it has a deep thud. You can tell it is thicker and stronger. Look at the frame, it is different from standard glass door insert frames. These frames from ODL and Western Reflections are metal and from RSL are thicker and stronger. Both companies have different frames but both has passed the rigorous impact testing. ODL and Western are extruded aluminum frames. RSL are extruded heavy polycarbonite.
Looking at the examples below online it is not possible to see the difference. You will see the definite difference when you see it in person. The etched glass can be done on any of the impact rated glass in either clear or textured options. See our chart for glass options for size and texture availabilities.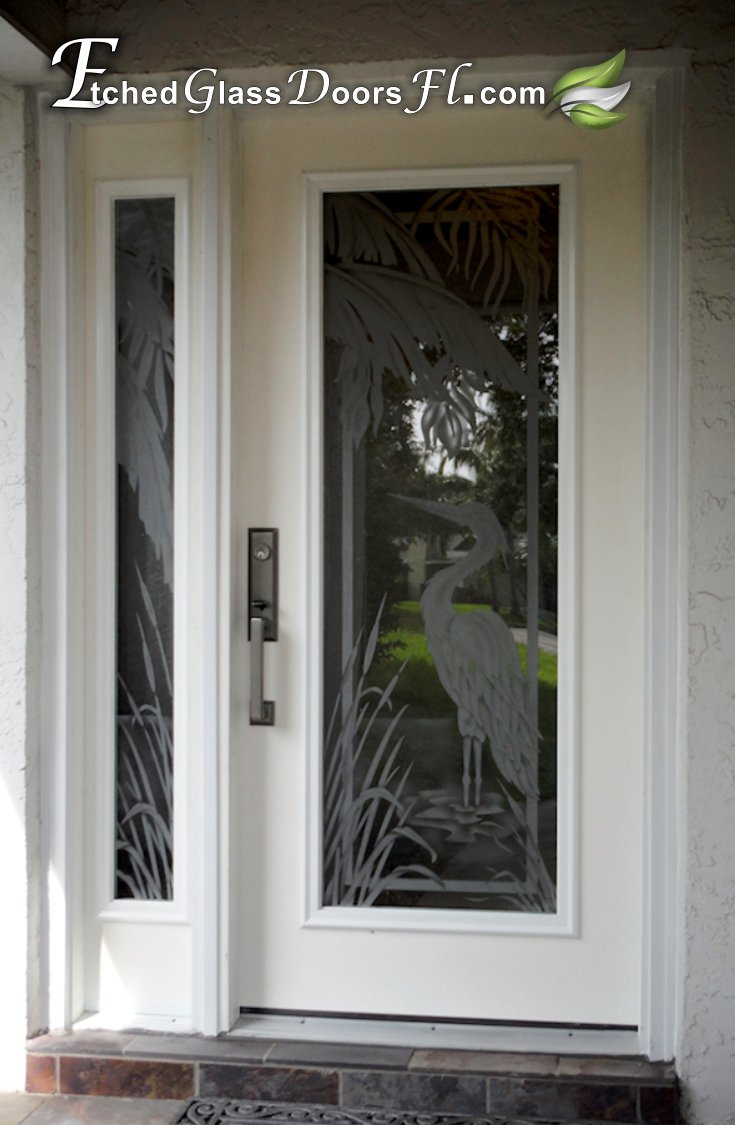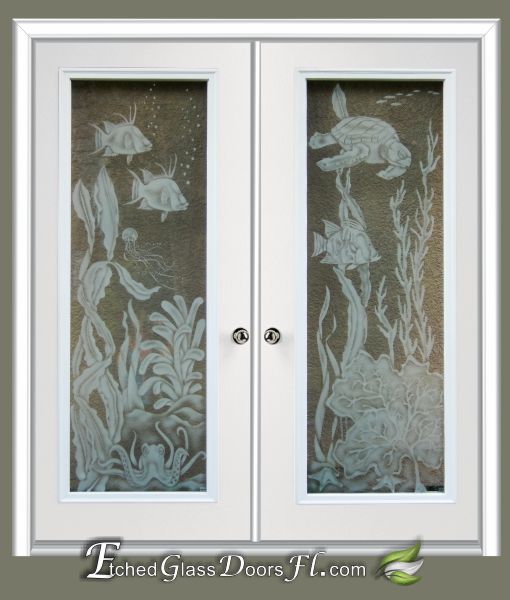 Impact Glass Door Inserts
Use either clear or textured glass impact glass with any etched glass design. Create a custom etched design if you would like! Our glass etching artist makes new designs frequently.